The quaint village of Saugerties is centrally located to numerous activities in the Catskill Region. There are ski packages available during the winter months, snow shoeing, and cross county trails are a short drive away. The summer months bring something for everyone from hiking, bicycling, tubing, and golfing to horseback riding and fishing. Throughout the year you can enjoy the artist colony of Woodstock with its eclectic shopping and events such as the Woodstock Film Festival and the Tattoo Festival. You may enjoy a cozy dinner and a poetry reading in one of the candle-lit cafes. Within the Village or Town of Saugerties, there is an array of eateries, endless antiquing and an old fashioned movie theater. Below you will find additional information to help you plan your stay at The Village Inn. Come and enjoy!
Opus 40 & Quarryman's Museum
Six-acre environmental bluestone sculpture built from an abandoned quarry by one man, Harvey Fite. Open Memorial Day-Columbus Day, Friday-Sunday and holiday Mondays, 12:00 Noon-5:00PM. A beautiful setting for a picnic lunch! Fite Road, Saugerties, NY 12477, Phone: 845 246-3400 www.opus40.org
HITS (Horse Shows in The Sun)
Top notch Equestrian events throughout the summer. Show Jumping, Dressage and more.
OPEN TO THE PUBLIC: Enjoy a day of family friendly fun at HITS-on-the-Hudson in Saugerties. General Admission: No admission charge for daytime performances Wednesday through Saturday. On Sunday, General Admission tickets are $5. Children 12 and under are free. General Admission in advance or at the Gate for the Saugerties $1 Million Grand Prix on Sunday, September 11, 2016 is $10; FREE for Children 12 and under. For tickets, contact HITS at 845.246.8833. http://www.hitsshows.com/saugerties/hits-saugerties

Above photographs courtesy of Julie Sitney: The Village of Saugerties – Saugerties Lighthouse – Partition St
See more at www.upstatephotos.com
Revolution Bicycles
Rent a Bike and explore our village and town on 2 wheels! We have a local biking trail and some longer scenic rides for the experienced rider.
196 Main St. Saugerties NY12477 Phone 845 246 1492 www.revolutionbikesny.com
Saugerties Historical Society/Kiersted House
Built in 1727, the Kiersted House, home to the Saugerties Historical Society, is architecturally significant as an exceptional example of 18th century building practices. It was the home of the first doctor of Saugerties, Dr. Christopher Kiersted. Special events include historical reenactments in May, History Day in October, free seasonal concerts and historical displays on the front lawn. 119 Main Street, Saugerties, NY 12477, Phone: 845/246-9529
Saugerties Lighthouse
The lighthouse proper contains a museum displaying artifacts of the lighthouse and of the commercial heyday of the Saugerties waterfront. The lighthouse can be reached by private boat from the south side of the Esopus Creek or by the nature trail on Lighthouse Drive. Open Memorial Day-Columbus Day. Tours given on weekends. 845 247-0656  www.saugertieslighthouse.com.
Seamon Park
Home of the annual October Mum Festival, Park open daily, dawn-dusk
Route 9W, Saugerties, NY 12477, Phone: 845246-2919.
Catskill Forest Preserve
The Preserve is comprised of over 300,000 acres of forest land with meadows, lakes, springs, waterfalls, cliffs, fire towers and wildlife. Today, it serves as a watershed, recreational area and an ecological and scenic reserve. The Catskill Park is comprised of seven different mountainous areas, each with numerous hiking trails. Trails range from easy to intensive, with each one offering beautiful views of the Catskill Mountains and the surrounding area. The Catskill Forest Preserve is the state owned and maintained land within the Catskill Park.

Above Saugerties Area photos by Jacquie Wolf.
1658 Stockade District Walking Tours
63 Main Street, Kingston, NY 12401, Phone: 845/339-0720. Narrated tour of National Historic District, featuring 17th and 18th century stone houses, site of drafting of New York State's Constitution and grave site of the first governor of New York State, George Clinton. Offered the first Saturday of the month, May-October, 2:00PM or by special appointment. School tours also available.
Woodstock Art Colony
Tinker Street, Woodstock, NY 12498, Phone: 845/679-8025.Charming art colony with many fine galleries, one-of-a-kind shops, theater, music, fine dining and spiritual pursuits, including a monastery. Great walking-around and people-watching town!
Woodstock Museum
Woodstock, NY 12498, Phone: 845/246-0600, E-mail:hello@woodstockmuseum.com, Website: http://www.woodstockmuseum.org.Moviesabout Woodstock and Woodstock Festivals, solar energy, Siberian Shamanism and other alternative communication media. Artifacts of Woodstock and its official sister-city, Nimbin, Australia. Open mid-April to mid-September. Open year round for archivists, groups and museum members. Many events are held at the Woodstock Town Hall. Call for further information.
Slabsides
Floyd Ackert Road (off Route 9W), West Park, NY 12493, Phone: 845/255-5077, 845/679-2642. Retreat home of naturalist John Burroughs. Open for tours twice a year, the 3rd Saturday in May and the 1st Saturday in October
Overlook Mountain Fire Tower
Meads Mountain Road, Woodstock, NY 12498, of the Hudson Valley and the Ashokan Reservoir. Trail to the fire tower is 2 1/2 miles long, with vertical rise beginning to end at 1,400 feet. Firm hiking shoes recommended. Trail is rated moderate. Volunteer guides and exhibits available weekends, first week of June-Columbus Day , 11:00AM-4:00PM. Parking at the foot of the trail. Trail open year round. www.catskillcenter.org/towers/overlook.html
Hudson Valley Pottery Trail
Ten nationally recognized potteries in the scenic Mid-Hudson Valley. Close to many fine inns, restaurants, hiking and biking trails, golf courses and many scenic attractions. Call for a map or download one from the web site. Call individual potteries for times of operation or visit the web site.
Hudson Valley Rail Trail
12 Church Street, Highland, NY 12528, Phone: 845/483-0428, 845/691-8666, Email:rebena1@aol.com.A 4.2-mile nature trail which extends from the Mid-Hudson Bridge in Highland into the Town of Lloyd. Walking, mountain biking, cross-country skiing and horseback riding. Two mile paved portion for strollers, rollerblading and wheelchairs. No motorized vehicles allowed.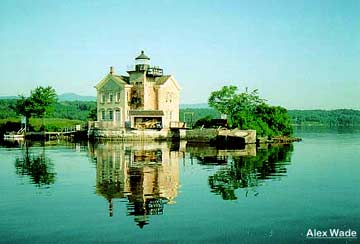 Above Saugerties Lighthouse photo by Alex Wade
FARMSTANDS, FARMERS MARKET & U-PICK FARMS
Sauer Farm
640 Kings Highway, Saugerties, NY 12477, Phone: 845/246-2725. Homegrown fruits and vegetables in season. Raw milk and organic eggs. Specializes in sweet corn and melons.
R.I.C.H. Farms
260 Glasco Turnpike, Saugerties, NY 12477, Phone: 845/247-8910, Website:http://www.pickmepumpkin.com.U-pick pumpkins.Pick your own pumpkins daily starting the last weekend in September through Halloween from 10:00AM UNTIL DUSK and enjoy corn maize, hayrides, pony rides, and a variety fine foods. Field trips welcome. Handicapped accessible.
Grey Mouse Farm
22 Grey Mouse Road, Saugerties, NY 12477, Phone: 845/246-3405. Homemade jams, mustards, pickles and relishes made fresh on the farm from homegrown produce. Open year-round, winter 10:00AM-4:00PM, spring and summer, Monday-Thursday, 9:00AM-9:00PM,
Boice's Farm and Garden
Old Kings Highway, Mt. Marion, NY 12456, Phone: 845/246-7426. Flowers (perennials and annuals), all varieties of vegetables and fruits. Specializing in sweet corn. Fall squashes, gourds, and pumpkins. Open May 1–October 31.
Saugeries Farmers Market
Summer Saturdays, Memorial Day to Columbus Holiday, 10am-2pm, 115 Main Street, Saugerties, NY 12477,Winter Indoor Monthly Market celebrating the holidays from Halloween to Mother's Day, 207 Market Street, Phone: 845/246-9371. Locally raised produce, fruits, flowers,meats, poultry, jams, jellies, pickles, mushrooms, baked goods, artisanal bread, maple syrup, honey, wine, and more. Children's art tent every Saturday. Chef demos, live music, and special events.Handicapped accessible.
Old Town Stockade Farmers' Market
Wall Street (between North Front Street and John Street), Kingston, NY 12401, Phone: 845/331-3659, E-mail:jkfitz@idsi.net. Located minutes from Exit 19 off the New York State Thruway, the farmer's market offers the "Best of the Hudson Valley Harvest," including fruits and vegetables, fresh-cut herbs, field grown flowers, cheeses, artisan breads, pots of herbs and plants, smoked meats, honey and maple syrup, fresh coffee beans, jams, mustards, and sauces. Held every Saturday, June-October, 9:00AM-2:00PM. Handicapped accessible.